Pedro Mantorras visits the school where he learned to read and write
It was in 2002 when, through an invitation from Sicasal and sponsored by the brand, the football player Pedro Mantorras, travelled to Angola, to the Sambizanga quarter, on a highly emotional morning, visiting places that were very close to his heart, socializing with friends and family and recalling episodes from his past.
The Angolan footballer football player was honoured with six thousand cans of Sicasal products, which he later distributed around the area where he was born and grew up.
The Sambizanga quarter and especially Nr. 416 Primary School was chosen for the start of the campaign which included giving away hats and shirts. This was followed by a visit to Father Horácio's Home, an institution that takes in street kids, and lastly the Kusola Home.
Mantorras' arrival was met with great excitement. The kids never tired of applauding and shouting the name of their idol. Very close to the school where the products were distributed, was Mantorras's former home and a bit further away the improvised football field where the international Angolan player got his first kicks.
From emotion to emotion, the footballer expressed the happiness that overwhelmed him for coming back to where he had learned to read and write and thanked Sicasal for the opportunity given to him to convey this happiness to his countrymen while at the same time reuniting with old childhood friends.
In 2008, Sicasal sponsored Mantorras once again and he returned to the quarter where he was born. He brought pens, posters, writing pads from the Benfica Club and footballs and cans with food from his sponsor (Sicasal). Kids and grown-ups looked as if they couldn't believe what was happening, and while some of them were happy just for seeing the football star, others remembered the essential: hunger. They said: "I really want some sausages".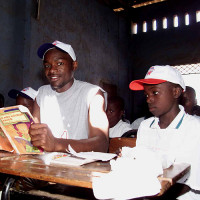 Pedro Mantorras visiting the school where he learned to read and write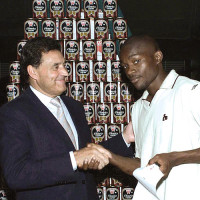 Mr. Álvaro Silva and Pedro Mantorras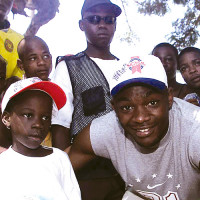 Pedro Mantorras distributing food in disadvantaged schools